3.2.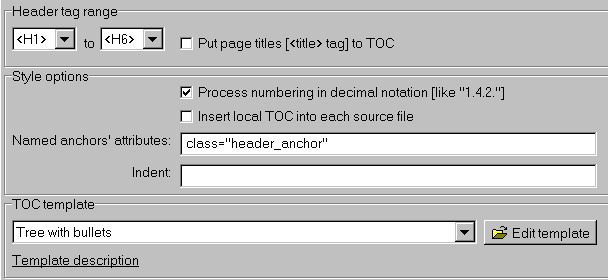 Just headers from specified range are processed.
If Process numbering in decimal notation is checked, then numbering is inserted both into header tags and into TOC items. See also: Where numbering is inserted.
Named anchors' attributes are inserted into generated named anchors, existing named anchors are not modified. See also: Generated named anchors format.
Indent is needed only for templates that are based on indent value such as Indent based tree and Pure text. Indent is not inserted for items that are on the 0th level (have no parents), applied once for items on the 1st level (direct children of the 0th level items), applied twice to their children, and so forth. See also: Available variables.
Clicking on Template description link brings on description of selected template.
Once you have edited template, it will be applied the next time you build TOC, no extra steps are required. See also: TOC templates.
See also: How program creates TOC, How to undo changes made.