5.
5.1.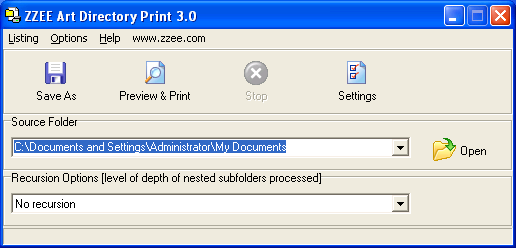 This is the main screen that comes up when the program starts. If you have called the program from the Windows Explorer context menu, then the Source Folder is automatically pre-filled with that folder path. You can either type or select a folder path using the Open button.
5.1.1.
You can build recursive listings.
No recursion
Just the directory itself is processed
1 level
The directory and all its child directories are processed
2 levels
The directory, all its child directories and all their direct child folders are processed
...
Unlimited levels
Processing is done for all levels of depth
5.1.2.
What are the buttons for:
| | |
| --- | --- |
| Save as | Save a folder listing as an HTML, XML, or CSV file. You can send this file by email, publish to the web, etc. |
| Preview & print | You can preview the output and then print it via the Print button available in the preview window. |
| Stop | This button is useful when you have selected a wrong folder or have specified incorrect options and want to cancel the generation process. |
| Settings | Here you can specify the file filter, which columns you want to be in the listing and in what order, various other options, including style options: colors and fonts. |
All buttons are also available as sub-items of Listing menu item, most all of them are accessible via keyboard shortcuts.